HandyTicket Deutschland
Tickets to your mobile. Simple, fast and cash-free. HandyTickets mean that your mobile phone can be used around the clock to buy tickets without using cash. Once you have logged in you can use your smartphone to order any single, day or 4-ride ticket.
Perhaps you want to use HandyTicket Deutschland, but you do not yet have access? In the VVO you can register with the HandyTicket partner DVB AG.
You can buy any tickets that are for sale in the HandyTicket Deutschland system. And not only for Dresden and the Upper Elbe region (VVO), but for many other German local transport regions.
These towns and regions are: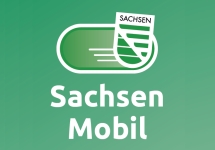 Saxony Mobile
Travel across Saxony by bus and train on local public transport: This is easy to do in the VVO with the HandyTicket Deutschland app: enter your start and destination in the information, select your ticket, buy it - and off you go.
HandyTicket benefits:
No dependence on opening hours or ticket machines,
Cash-free ticket purchases for bus & rail,
Simple, secure charging for ticket purchases,
One-off registration – travel in many local transport regions throughout Germany
How it works:
A one-off registration with HandyTicket Deutschland.
Use the app at your convenience to buy the ticket you want.
Jump on board and get travelling.
How to get HandyTickets on your smartphone
You can easily buy a HandyTicket using the free "HandyTicket Deutschland" app or mobile website. Click the relevant button below to go straight to your version:
Buying HandyTickets is quick and easy with the free app from HanseCom GmbH, available for iPhones in the App Store and for Android smartphones in the Play Store.
More Information