Tariff zone plan
Overview of tariff zones
This overview shows the VVO area, which is divided into 21 tariff zones. Fares are based on these zones. When you travel, you simply count the number of zones you will pass through.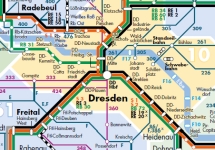 High-speed routes tariff zones
This map shows the high-speed SPNV (regional rail) routes, tourist routes and key bus routes. It provides a large-scale overview of routes crossing one or more tariff zones.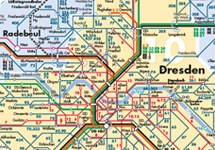 Tariff zone map and route network
The VVO tariff system is based on the tariff zone map. The zones you travel through on your journey are counted based on this map. This number then gives you the price of the ticket you need. The boundary stops marked enable you to calculate the price level with accuracy.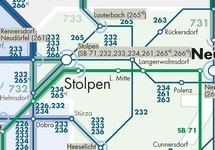 Tariff zone map with border area
The tariff zone map, which also shows the bordering areas, clearly shows the tariff zone limits and highlights the border areas. These border areas ('Zwischenzonen') are shown in light blue brackets.