Tariff zone plan
Overview of tariff zones
This overview shows the VVO area, which is divided into 21 tariff zones. Fares are based on these zones. When you travel, you simply count the number of zones you will pass through.
---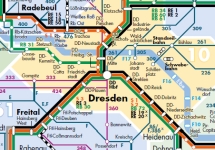 High-speed routes tariff zones
This map shows the high-speed SPNV (regional rail) routes, tourist routes and key bus routes. It provides a large-scale overview of routes crossing one or more tariff zones.
As at: 11 December 2022
---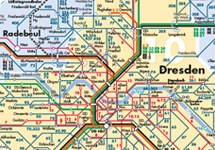 Tariff zone map and route network
The VVO tariff system is based on the tariff zone map. The zones you travel through on your journey are counted based on this map. This number then gives you the price of the ticket you need. The boundary stops marked enable you to calculate the price level with accuracy.
---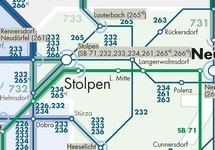 Tariff zone map with border area
The tariff zone map, which also shows the bordering areas, clearly shows the tariff zone limits and highlights the border areas. These border areas ('Zwischenzonen') are shown in light blue brackets.
---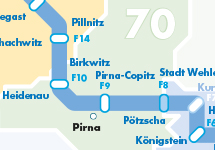 Tariff zones with Elbe ferries
This tariff zone map highlights all the ferry landing points in the network area. You can see on which ferries the VVO tariff is recognised and which ferries lie on the tariff zone border. No VVO tariff is recognised on the ferry in the spa town of Rathen.
---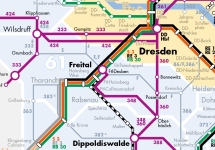 PlusBus and TaktBus lines
PlusBuses have been rolling through the VVO since 2018. These buses are just as reliable as trains: fast, direct, with a regular frequency and always on the same route - and all that even on weekends. This tariff zone map shows you the PlusBus routes in the VVO region.
---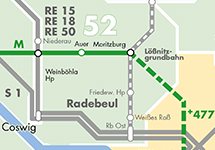 Tariff zones with bicycle bus lines
From 29 March to 3 November 2024, the transport companies will operate BicycleBUSES on selected routes. These buses run regularly and partly with advance notice on Saturdays, Sundays and public holidays.
Tariff zone map with FahrradBus routes - will
be updated in good time before the start of the season.