Ticket machines
Ticket machines in the VVO
In the VVO area there are different types of ticket machines operated by different transport companies. To make it easier for you to use the machines, we have standardised them as much as possible.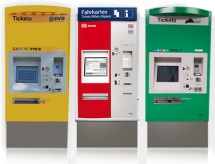 What should you do if the machine fails to work?
Have you inserted your money but not received a ticket? If so, see which transport company the machine belongs to. Note the machine number and speak to an employee in the vehicles.