Travelling in the IDOL (Liberecký kraj)
The IDOL (Integrovaný dopravní systém Libereckého kraje) integrated transport system operates in the Liberec region (Liberecký kraj) in the north-east of the Czech Republic.
Trains from the VVO to the IDOL (Liberecký kraj)
From the Verkehrsverbund Oberelbe (VVO) you can get to destinations in the Liberecký kraj on the train:
RegionalExpress RE 2: Dresden – Zittau – Liberec
Last stop in the VVO: Arnsdorf
The trilex tariff, selected Deutsche Bahn offerings and the international rail tariff apply to your entire journey from the VVO area.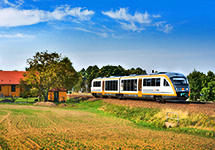 trilex day ticket
Full speed ahead to Liberec: The trilex day ticket is ideal for excursions and casual travel. Whether alone or in a group.
Saxony-Bohemia ticket
The Saxony-Bohemia ticket is offered by Deutsche Bahn. It is valid for one day for excursions and trips from many points in Saxony to many destinations in Northern Bohemia. Whether alone or in a group.