Children
Pre-school children travel free when accompanied by parents or grandparents on the bus & rail in Dresden and the entire Upper Elbe region.
Nursery school groups may also travel free. Those accompanying nursery school groups receive no reduction.
Schoolchildren below the age of 15 can use reduced tickets.
Let's practise - VVO children's tickets
Our little ones get excited when they can show the friendly ticket inspector the ticket they have stamped themselves. It's a way in which the kids can learn through play, on their way to nursery, how to properly stamp a ticket.
VVO children's tickets are free of charge and for practicing for children until enrolment.
The 4-ride tickets come in a 4-pack with four playful designs: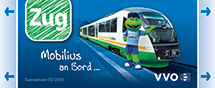 trilex regional trains children's ticket
trilex trains are coloured green, white and orange and operate on regional routes RE 1 and RE 2, and RB 60 and RB 61.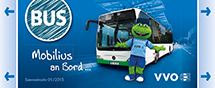 VGH bus children's ticket
Our mascot "Mobilius" travels around on a Verkehrsgesellschaft Hoyerswerda mbH (VGH) bus.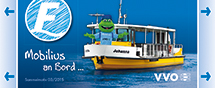 "Johanna" DVB ferry children's ticket
Mobilius crossing over. In the VVO area the children's ticket is also valid on ferries, of course: "One ticket – travel on everything".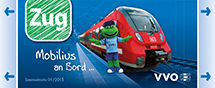 DB Regio AG railcars children's ticket
DB Regio AG's Talent 2 railcars run from, e. g., Dresden to Leipzig, Hoyerswerda and Cottbus.
VVO children's tickets are available free of charge:
Of course we can also post children's tickets to your home address. Our VVO information hotline staff will be happy to take your order on +49 (0) 351 / 852 65-55.