Animals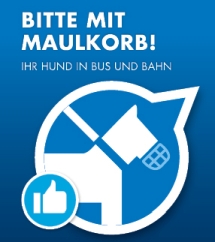 Wenn Sie Ihren Hund oder Ihr Haustier in Bus und Bahn mitnehmen möchten, ist das kein Problem, sofern genug Platz im Fahrzeug ist.
Kleine Tiere in einem geeigneten Behälter dürfen kostenlos mitfahren.
Für Hunde gibt es im VVO folgende Tickets:
Fahrradtageskarte
(1 Tarifzone oder Verbundraum)
Fahrradtageskarte Elbe-Labe
Fahrradmonatskarte
Please make sure you supervise the animal throughout the journey. Dogs must also wear a muzzle, unless they are guide dogs for people with disabilities. Dogs must always be held on a short leash.
Animals are not permitted on seats.
The company staff will decide whether the animal is to be accepted for carriage and where it should be placed in the vehicle.
Details on taking bicycles, items and animals with you can be found in the "small print".
Hide note
New since 01.08.2019: If a dog is not wearing a muzzle, it will cost the owner a fee of 20 euro. 
Cycle day ticket prices and validity
The cycle day ticket is valid up to 4am on the day following the day of stamping.
If you use the cycle day ticket in combination with the night ticket (valid from 6pm to 6am on the following day), it is valid until 6am.
Dog included: Tip for monthly ticket holders and subscription monthly ticket holders
Do you want to bring your dog on board frequently, but prefer to use single tickets, day tickets or weekly passes? If so, we recommend the monthly cycle pass. This also applies to an accompanying dog.
For 17 Euro you can take your dog anywhere in the VVO area for one month from the first day of use.


Price level
Valid

normal

Bicycle day ticket9

A
1 tariff zone2
2,00 €
D
VVO Area
3,00 €

Bicycle day ticket
Elbe-Labe10

VVO + DÚK
VVO Area +
district of Ústí
4,00 €

Monthly ticket bicycle9
valid: see Monthly pass

D
VVO Area
17,00 €
3 according to ticket imprint
12 can also be used for a bike trailer or a dog
All information is subject to Change.