Travelling in the VBB
The Verkehrsverbund Berlin-Brandenburg (VBB) comprises the state of Brandenburg and the national capital of Berlin.
Trains out of the VVO to the VBB
From the Verkehrsverbund Oberelbe (VVO) you can get to Berlin and other destinations in the VBB using train lines:
The Deutsche Bahn tariff (DB tariff) applies to the entirety of train journeys made out of the VVO area to Brandenburg.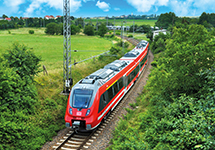 Regio120 and Regio120plus tickets
The Regio120 ticket is offered by Deutsche Bahn. You can use the Regio120 ticket to travel for up to 120 kilometres for just 15 euros. For over 120 kilometres you can use the Regio120plus ticket, which costs just 20 euros.
Buses out of the VVO to the VBB